PCD Pharma Franchise
Company in Bihar
Olin Pharma is a prominent name in the Indian Pharmaceutical Industry for supplying a wide range of quality Pharma products and a unique business opportunity known as PCD Pharma Franchise in Bihar. Thus, we are expanding our PCD Pharma Franchise services in every state and region of Bihar. If you are looking for the best Pharma Franchise in Bihar; connect yourself with Olin Pharma. Consequently, Our company helps all the Pharma franchise associates and clients to grow their business in this sector by using effective marketing tools and the best quality of the Pharma product range.
Best PCD Pharma Franchise in Bihar
Our team is inviting all the Pharma Experts and businessmen to hold the Pharma franchise opportunity in Bihar and start up a new pharma business for them. Also, We are known as the best PCD Pharma Franchise Company in Bihar for the Pharma Franchise business opportunities. So, grow your business with us and invest in the most reliable Pharma Company in Bihar. Olin Pharma uses all the proven technologies and policies to manufacture a diverse range of Pharmaceutical products.
Bihar is a good place to start your own venture with the most genuine investment plans. The state has a good population and you can actually have a good medicine business here. We are offering you the PCD pharma franchise in Bihar. Our top target locations for PCD franchises available in Bihar are Patna, Gaya, Muzaffarpur, Nalanda, Rajgir, Darbhanga, Danapur, Hajipur, Chhapra, Katihar etc. The business opportunities open door to multiple segments where you can take up the PCD franchise. These consist of generic medicines, pediatric, dermatological drugs, orthopaedic, nutraceuticals, diabetic etc. Our product list is DCGI approved and meets all your demands for quality, durability, and efficacy.
The Scope of PCD Pharma Franchise in Bihar
Monopoly Based Business Opportunity
With the increase in the demand for pharma products all over India, the pharma industry in this state is also developing. Bihar contributes well to the Pharma industry. Being an industrial hub, you can truly rely on its successful future in the pharmaceutical domain. The state is sure to bring laurels & great ROI for you if you opt is as your business place.
Due to its high population, the growth of Top Pharma Franchise Company is expected to be good in this state. Moreover, the pharma industry is expected to grow by 25% by 2o25 which will again be beneficial for the PCD Pharma Franchise. The living standards and income of the middle class are rising which is good for the pharma business. These are some of the reasons which is making this a good sector for investment.
Investment in this sector will bring your a good return on investment and profits in near future. surround yourself with golden opportunities and get a successful business. Therefore, the growth opportunities in PCD Pharma Franchise in Bihar are definitely a good investment with stable growth.
Our Core Values as Top PCD Pharma Franchise Company in Bihar
Our Pharma Business Model
Olin Pharma follows some strict core values to formulate the best quality Pharma products. Also, we always stick to strict business deals to provide to our associates and franchisee partners. This helps in moving morally in the pharmaceutical industry toward the goal to secure a healthy environment for all in Bihar. Here are some values that we work on –
Transparency – Our team keeps all the business operations transparent to gain 100% client satisfaction. We keep all the production procedures and monetary transactions transparent and honest. So, there is no hidden cost for our customers to pay in the future.
Dependability – We are the most reliable PCD Pharma Franchise Company in Bihar. So, we have been maintaining dependability so that our customers can completely rely on us.
Ethical – We are moving in an ethical way to achieve the business goal. A company that works on principles gets a higher opportunity to produce quality services. All our members work professionally to make a better healthcare sector in Bihar.
Olin Pharma has made it into the list of the Top PCD Franchise Companies in Bihar. Also, We formulate over 100+ Pharma medicines by using the best quality raw material. So, be our company's associate to get a successful Pharma franchise in Bihar.
Why Choose Us for PCD Pharma Franchise in Bihar?
Olin Pharma is one of the most trusted pharma company. The company has a good presence in the market and also has a good customer base. We are one of the most reputed pharma companies in this industry. Apart from this we work ethically and are thus trusted by our other franchise partners and associates for our quality pharma products. The following are the benefits of choosing Olin Pharma in Bihar:
Following are the advantages of associating with us: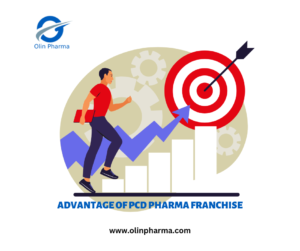 • Good range of quality products with affordable prices by us.
• Professional support and services.
• Complete Monopoly rights.
• Attractive packaging for all the products
• On-Time delivery of all the consignment
• Promotional backup like Visual Aid, Product at a glance card, Leave Behind Cards, Sample catch covers, MR bag with company Logo and Order Book
• We will provide you with gifts for doctors.
• Latest packaging technology of ALU-ALU is adopted.
• Olin Pharma will provide you with marketing backup as well