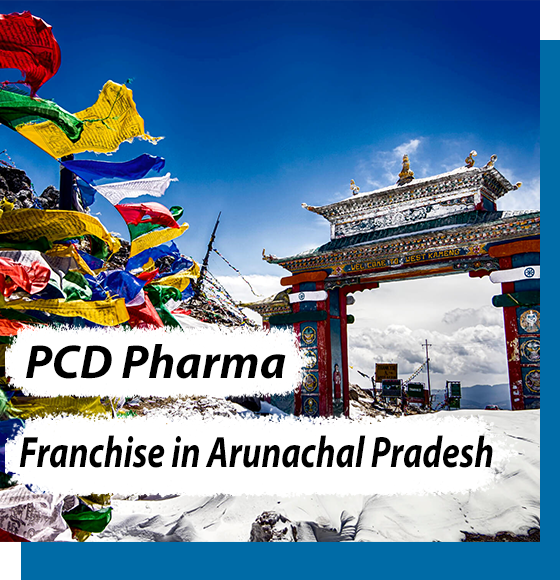 PCD Pharma Franchise
in Arunachal Pradesh
There is a lot of potential for the PCD Pharma Franchise in Arunachal Pradesh. Olin Pharma is a well-known pharma company that has become identified with the state of Arunachal Pradesh. We are a complete certified PCD Company with cutting-edge infrastructure. The company distributes a huge range of pharma products that follow GMP and WHO guidelines. We have our own R&D facilities and quality control units to back us up. These factors have enabled us to supply over 100 high-quality pharma products and establish ourselves as a Top Pharma Franchise Company.
Join Us For Best Pharma Franchise Business Opportunity
We wish to grow our footprint in Arunachal Pradesh, thus we are giving monopoly-based pharma franchise business opportunities. All pharma personnel including marketing, healthcare experts, dealers, retailers, and medical representatives are welcome at Olin Pharma. Tablets, injections, capsules, ointments, and other forms of our products are high in demand. Working with Arunanchal Pradesh's Leading Pharma Franchise Company will provide you with a once-in-a-lifetime opportunity to establish your own pcd company with major future benefits.
Best PCD Pharma Franchise in Arunachal Pradesh
Monopoly Based Business Opportunity
Olin Pharma is a perfectly functioning company structure that manufactures and distributes high-quality pharmaceutical formulations throughout India. We are highly skilled at developing and delivering high-quality pharmaceutical products based on extensive research and pharma knowledge. Olin Pharma is a fully quality-focused corporation that thrives on manufacturing new drugs using research-based procedures.
In Arunachal Pradesh, we are providing our PCD Pharma Franchise services. Our PCD services satisfy the standards for a high-quality drug range in the vacant locations. As a result, residents of Naharlagun, Ziro, Tezu, Khonsa, Bhalukpong, Pasighat, and Jairampur choose us for the greatest product that will help your health and that of your family.
Quality Driven Pharma Company in Arunachal Pradesh – Olin Pharma
Get Quality Pharma Products
Olin Pharma is a well-known name in the pharma industry. We are an R&D-driven company that offers a high-quality medicine line to keep people healthy. From newborns to the elderly, our medicines are all around us. All of our products are manufactured in high-capacity equipment. High-tech equipment is installed in our units. Our experienced production team are capable to handles production and supply work smoothly.
Only safe and effective pharma products are introduced into the market, thanks to our quality control team. They thoroughly inspect each batch, and only drugs are sent to the packing section after they have given their approval. Medicines are packaged in a safe material in their final state. For our pharmaceuticals, we primarily use Alu-Alu or blister packing.
We provide a monopoly based PCD Pharma Franchise in Arunachal Pradesh to make drug distribution at every unoccupied place. We put a premium on delivering great results.
Available Locations for PCD Pharma Franchise in Arunachal Pradesh
Join and Get Best Business Support
Known as the best PCD Pharma Franchise in Arunachal Pradesh, we are offering monopoly based pharma franchise business opportunities in several districts across the state. We are welcoming pharma representatives, retailers, marketing experts, pharma professionals, and interested persons from all districts. Our experts have conducted surveys and identified districts with strong demand for quality pharmaceutical drugs.
Below are some of the districts
targeted by us:
West Siang District.
Tirap District.
Upper Dibang Valley.
Anjaw District.
East Siang District.
Lohit District.
Lower Dibang Valley.
Changlang District.
Olin Pharma is Arunanchal Pradesh's premium PCD Pharma Franchise Company, having amazed everyone with its pleasant working spirit, ethical business practices, high-quality products, and pharma franchise services. In a relatively short period of time, we have risen to the top of the pharma franchise company in India.
Reasons to choose us for PCD Pharma Franchise in Arunachal Pradesh:
Transparency: Olin Pharma is committed to providing complete transparency to its clients and consumers. We never withhold any information about our products, services, or other offerings. These methods have aided us in developing relationships with our clientele.
Superior Raw Material Usage: The company has developed relationships with trustworthy suppliers who provide us with organically superior raw materials. As a result, the company assures you that you will receive 100% safe and high-quality products.
Monopoly Rights: On a monopoly rights basis, we are providing pharma franchise business options. These rights will helps you to reduce the competitors in half and do business with fewer competitions.
Pharma Line-Up: The company is supported by a highly experienced and well-trained staff of professionals that work to ensure that the best quality pharma product is delivered. Pharma experts, marketing professionals, healthcare specialists, production supervisors, and so on are among them.
Contact for PCD Pharma Franchise in Arunachal Pradesh
We are offering our pharma franchise business opportunity to all interested people in Arunachal Pradesh.  If you too want to start your own pharma business and become a business leader, consider associating with Olin Pharma, the reputed PCD Pharma Franchise Company in Arunachal Pradesh.